Liquid water velocity is measured by the ultrasonic doppler principle which relies on suspended particles or small air bubbles in the water to reflect the ultrasonic detector signal. The doppler flow velocity meter will not operate in very clean, degassed water. Water depth is gauged by a hydrostatic pressure sensor, referenced to atmospheric pressure through the vented power and signal cable.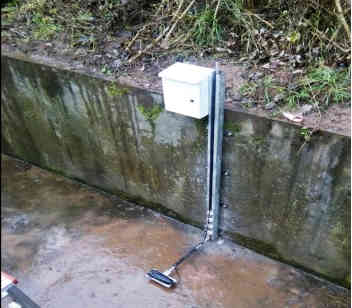 It doesn't have rotating parts such as rotating pulp and bearings, It uses Doppler technology to detect flow velocity ,no friction, no inertia, measuring point in front of the body, does not destroy the flow field, has high measurement accuracy, wide range, sensitive sensing , linear flow measurement. Not afraid of sediment, floating debris, intuitive readings , easy operation, not easy to damage and so on.
1. Power supply: DC9-18v, power consumption: 2.5W; or 220V-240V
2. Velocity range: 0.02-10.00m/s
The standard section of flow calculation is 5%, and the non-standard section needs to be calibrated many times to have more accurate flow data.
3. Flow Resolution: 1mm/s
4. Water depth range: 0 ~ 20M (minimum water depth: 5cm) resolution: 2mm accuracy: + / - 0.2%
5. Flow calculation: flow rate, total flow channel type: pipe (optional for round pipe, egg shaped pipe or other special-shaped pipe) Channel (circular channel, rectangular channel or other special-shaped channel) natural river and stream
6. Data output: lightning protection isolation RS485 port, standard MODBUS-RTU format, can be equipped with wireless data transmission station or GPRS CDMA network communication module to realize data remote transmission
7. Sensor IP68 protection grade, can dive 20 meters to work (sensor cable standard 30 meters, length: 1000m maximum)
8. Measurement occasion: it is applicable to a variety of natural flow process monitoring, sewage, open channel sewage treatment, water conservancy channel process monitoring, road and culvert flow rate, flow and water level measurement.