GE-209D differential pressure switch adopts diffusion silicon differential pressure sensor and stainless steel case, the two pressure interfaces can be connected on the measured pipeline or impulse line, suitable for measuring differential pressure of gas and liquid.

Character:
* Two independently adjustable set points with fixed dead band.
* Ingress protection: IP66
* Dead band: narrow, fixed.
* Process connections: M20x1.5 Male thread or others.
* Process fluid: water
* Range: 0-1.0 bar****35.00bar max
* Factory adjusted set points:
* Min. Set point = 380 mbar (decreasing)
* Max. Set point = 2 bar to 35bar (increasing)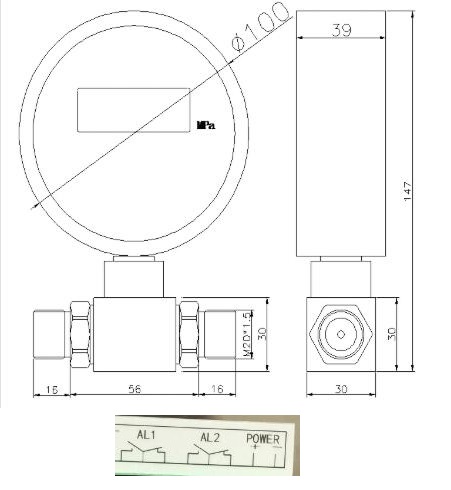 Specification:
Pressure Range : 0...3.5MPa
Accuracy:
≤0.5%F.S
Power Supply:
24VDC/220VAC
Overload Capacity:
150%F.S.
Response Time:
<30ms
Pressure Type:
Differential Pressure
Stability
: <0.1%/year
Display:
0.56" Nixie Tube
Display Range:
-1999~9999
Medium Temperature:
-40~150℃(Heat radiator must be used if medium temperature over 80℃)
Operating Temperature:
-30~80℃
Relative Humidity:
0-90%